William S. Hart created a film style that revealed an authentic vision of the Old West.

He made a major contribution to film history by developing and embodying the prototype of the frontier hero.
Fame, artistic recognition, and wealth, were Hart's rewards.
True to the spirit of Western heroes he had portrayed on screen, Hart was humbly grateful to the fans who had supported his film career. When he died in 1946 he left the bulk of his estate to the County of Los Angeles, stipulating that his house and the ranch property were to be used as a museum and public park.
For many years, funds raised by the Friends have been used to help maintain the mansion, help with the animals in the park and clean/restore numerous art treasures.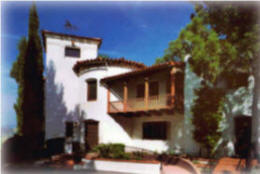 La Loma de los Vientos
(The Hill of the Winds)
The Hart Museum sits atop a hill within a large park area. It is a house museum that was once the retirement home of William S. Hart, a silent-screen cowboy movie star.
The Spanish colonial Revival style mansion contains original furnishings, an impressive collection
of western art, mementos of early Hollywood and Native American artifacts. In addition, there is a furnished 1910 ranch house which is open for unguided tours.
The surrounding park grounds are operated by the Los Angeles County Department of Parks and Recreation. Picnic facilities are available in the park. There is a nature trail, a live farm animal exhibit, and a herd of bison occupies part of the range area of this 260 acre
"Horseshoe Ranch."
---
William S. Hart park is less than an hour's drive from most areas of Los Angeles.
From mid-September to mid-June, (free tours of the house are available)
Wednesday through Friday, 10 am to 1 PM (last tour at 12:30)
Saturday and Sunday, 11 am to 4 PM (last tour at 3:30).
In summer, tours are available Wednesday through Sunday,
11 am to 4 PM (last tour at 3:30)
Handicap accommodations are available